Selling Your Watch? Gold Buyers Near Me Can Help
Giving You The Best Price For Your Swiss or Luxury Designer Watches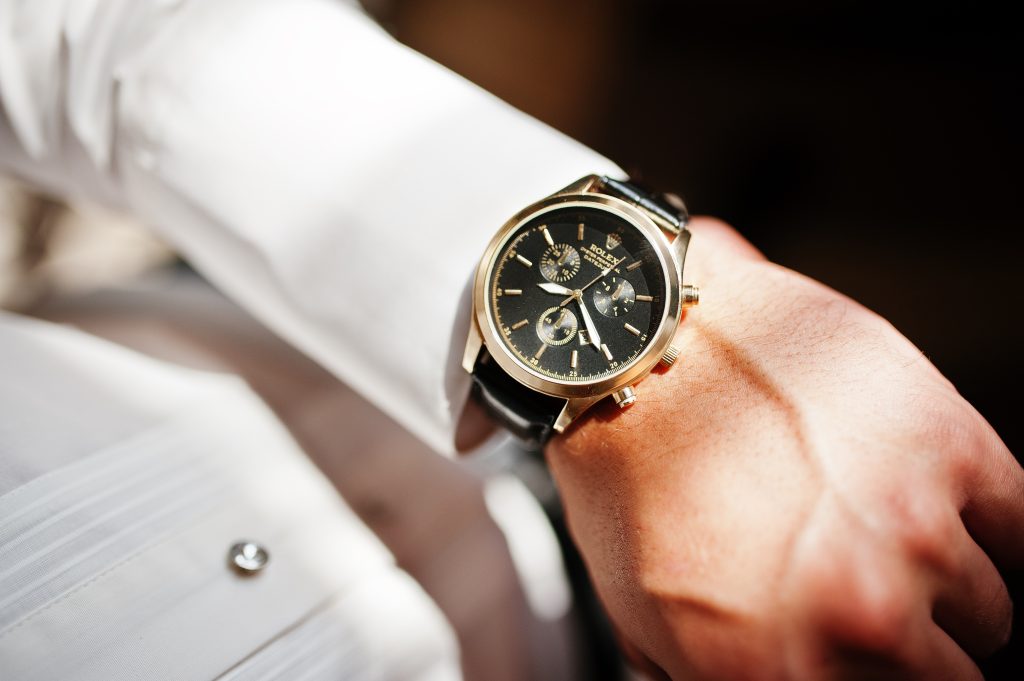 If you have used designer or luxury watches, you can quickly exchange them for cash. As leading watch buyers, we promise to Give You The Best Price For Your
A watch collection is indeed a priceless collection that doesn't come cheap. Whether you love to collect watches or are new to the hobby, time will come when you want to curate or downsize your collection. In such scenarios, it might mean selling your watch to keep the ones you truly love or making space for a new piece you're planning to purchase, whether it's buying a timepiece from, Rolex, A Lange & Sohne, Audemars Piguet, Breitling, or Cartier.
Despite the global pandemic that affected the watch industry, the latter continues to thrive after a period of decline. Moreover, the sales of luxury brands show resilience even as the pandemic persists. Whether it's a new or pre-loved piece, the demand for luxury watches continues at a steady pace. (1)
Gold buyers can help sell your watch immediately
Although you can do almost anything online, even selling your watch, the process can be challenging, especially if it's your first time. Remember that most watch collectors can be detailed and specific when checking out the selection of available watches. In such cases, expect your watch to go through scrutiny before it's purchased.
However, know that you can always rely on gold buyers to have your watch sold immediately, especially if you need urgent cash. They're always ready to purchase your beloved timepieces as long as they fit their criteria. Aside from dealing with gold buyers, if you're planning to sell one of your prized timepieces soon, there are several considerations to ponder to ensure a successful sale.
At GoldBuyersNearMe.com, you can sell watches and luxury watches, as well Gather all the important documents and information about your watch
Once you decide to sell a modern luxury watch such as an Omega timepiece, giving potential buyers all the pertinent details, such as how much you paid for it, can assure them that your asking price is fair. Regardless of the age of your watch, the more information you can provide, the more likely you are to sell it for a reasonable price.

Similar to a car, you can maximize the sale price of your watch by having records of ownership history. Although it's possible to sell your watch without its original box and documentation, such as the sales receipt, many collectors will greatly appreciate having them. Most will eagerly pay a good price, especially if you're selling a luxury watch. (2)

Generally, they serve as proof of authenticity and confirm any cleaning, repairs, and replacement of the parts. Additionally, a majority of buyers attach high importance to the original components. With this in mind, if any of the parts have been replaced, always inform the buyer. If you have the original components, it's best to let them go as part of the package. This increases your chances of someone buying your watch at a good price.

Don't forget to provide details about the overall condition of the watch. Indicate any dents, scuffs, or scratches or if the bracelet is quite stretched or loose.
Got a Watch You Wanna Sell?
FREE Watch Appraisal Kit
Research reliable platforms to sell your watch on
Today, there are a variety of platforms where you can use to sell your watches, such as online marketplaces, auctions, and even online watch forums.
Among the available platforms, consider looking for a reputable pre-owned watch dealer. A reliable dealer has an experienced team of master watchmakers who constantly assess the watch market to price your timepiece accurately. Generally, they have a secure and efficient platform for buying and selling watches. Make sure you choose one that has been in the industry for years and has positive reviews and testimonials.
Aside from a reliable watch dealer, other platforms where you can sell your watch include:

⦁ Auction houses. If there's a local auction house in your area, consider attending the next event. An expert will assess your watch and decide on an accurate value, which means you're more likely to get the right price for your watch. An auction might be a good option if you have a high-end timepiece from Baume & Mercier or one of the Piaget pocket watches since they're in high demand nowadays. Remember, though, that selling your watch at an auction house has its share of risks since there's no guarantee of a successful sale.

⦁ Online auction sites. Like a local auction house, an online auction site boasts a convenient selling process since it takes place online. An advantage of this platform when selling a watch is the accessibility— you have a good chance of having your watch purchased. However, you may face rigid competition, so there's no guarantee that someone will go for your watch.

⦁ Pawnshops. Many typically go to a pawnshop if they have something to sell with value, such as jewelry and timepieces. An advantage of pawnshops is their accessibility since you can always easily find one. When negotiating in a pawnshop, the process can be relatively more straightforward and less time-consuming than other platforms. However, you might not be able to get much from selling your watch since pawnshops often want to sell pieces rather than buy them.

⦁ Private buyers. If you decide to sell to a private buyer, it might be a good option since you can arrange the sale yourself. In most cases, you're likely to get a good price for your timepiece, especially if it's in high demand on the market. Nevertheless, it would be best to be careful since there's always the risk of being scammed.
Consider Gold Buyers Near Me
At GoldBuyersNearMe.com, we buy luxury brand watches. Of course, we also purchase fashion brand watches. But what is the difference between a luxury watch and, say, a fashion brand watch?
Aside from these common selling platforms, you might want to consider gold buyers or firms who might be eager to purchase watches from top brands such as Richard Mille. Most also buy and sell a vast array of the top brands of watches on the market. It's an option worth checking out since you might get a better price out of your watch.
Take good photos of your timepiece
When selling your prized watch, an important consideration you need to prioritize is the key role of great photos. With this in mind, it's important to take good-quality photos of your watch to help sell it quickly.
Good photographs are the best way to showcase the overall condition of your watch, but watches are difficult to photograph even if you have a top-quality Swiss brand such as Girard-Perregaux.
It might be best to take your time to get the right photos. Remember that you don't need any high-end cameras or sophisticated lighting set-ups. Using your smartphone and proper lighting can give you the right photos with practice.
Providing clear and well-lit photos of the watch you're selling will be a deciding factor among interested parties in buying your watch.
Present the listing of your watch in the best way possible
Depending on the type of platform you'll use to sell your watch, always provide accurate details so that it'll be convenient for potential buyers to check it out. If you place a listing on an online marketplace or forum, the listing should clearly outline the overall condition of your watch.
Remember that straightforwardly presenting information, ideally in a bullet-point method, is an effective way compared to writing several paragraphs. Some of the crucial details include the date of purchase, location, times worn, servicing, replacements, and many more.
As the luxury watch market continues to thrive despite the effects of the pandemic, selling a luxury timepiece can be a manageable task nowadays. (3)
Maintain a realistic mindset about the expected value of your watch
If you're planning on selling your watch, you must be realistic about its value. Remember that not all timepieces go up in value.
In the current market, most retailers can and often offer a big discount off the recommended retail price (RRP) of a timepiece when selling one. If you believe you can get a value anywhere near the recommended retail price, you better think twice. Unless you have a high-value brand such as a Rolex or Patek Philippe, the offers you'll receive will be within a mediocre range. (4)
Recently, if you're able to keep up with the watch trends, you might have heard about tourbillon vintage brands making a comeback. Even the top names in the industry have released timepieces with the mechanism.
The tourbillon is an intricate mechanism comprising a mix of wheels, gears, and cogs in a timepiece, which makes it a visually appealing element that makes a piece more desirable, especially among collectors. Some of the top brands that incorporate the tourbillon include Bvlgari, Panerai, IWC, TAG Heuer, Jaeger-LeCoultre, and Hublot. If you're lucky to own one and are ready to sell it, you'll most likely get a good price for it on the market.
Final thoughts
Selling a watch from one of the top brands in the market is no longer a complicated process with the number of platforms you can use, including looking for gold buyers. With the variety of options available when selling your watch, make sure you choose the right one. You'll go through an easier process if you sell a luxury watch brand due to the high demand on the market these days.

Before making up your mind about selling your watch, you need to spend more time thinking about the pros and cons of selling it, whether it's a vintage piece with history or a modern timepiece with cutting-edge features. If you want to make the selling process a hassle-free experience and get the right price for your prized watch, these valuable tips will guide you along the way.
References:
"Luxury Watches Show Resiliency In A Difficult Year", Source: https://www.forbes.com/sites/anthonydemarco/2021/02/01/luxury-watches-show-resiliency-in-a-difficult-year/?sh=2178b3bc688f
"Millennials' Aspirations Drive Modern Luxury Watch Growth", Source: https://luxe.digital/business/digital-luxury-reports/millennials-drive-luxury-watch-growth/
"LUXURY WATCH MARKET – GROWTH, TRENDS, COVID-19 IMPACT, AND FORECASTS (2022 – 2027)", Source: https://www.mordorintelligence.com/industry-reports/luxury-watch-market
"Why Some Watches Hold Their Value And Others Don't", Source: https://www.forbes.com/sites/matthewcatellier/2020/12/22/why-some-watches-hold-their-value-and-others-dont/?sh=126b581379cd