Sell Your Coins
We Buy All Gold and Silver Coins
At Gold Buyers Near Me we buy all types of coins such as bullion coins, proof coins, numismatic coins, and commemorative coins – this includes all precious metals types such as gold and silver coins. Our process is safe, simple and fast. To get started, all you need to do is request a free appraisal kit.
Lock in your price today! Call us to get a quote for the gold and silver coins you would like to sell. The quote will be noted on your account and our offer will be based on that day's gold price.
Types of Coins We Buy
As a customer of Gold Buyers Near Me you can sell coins online using our secure and insured FedEx shipping. We accept all precious metal coins including but not limited to bullion, numismatic and commemorative coins.
Fill out the form for your
FREE Appraisal Kit
A bullion coin is a coin purchased for investment, not circulation. Bullion coins are available in various weights and their precious metal content value will often exceed the face value of the coin. The U.S. Mint produces two type of bullion coins: Uncirculated and Proof Coins.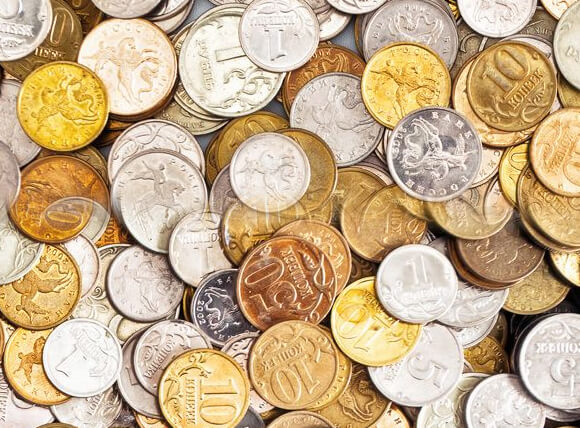 How Do You Know If Your Coin IsAuthentic?
The more popular the coin, the more likely it is that there are counterfeits and replicas of it. It was once thought that coins under $100 were too much work and money to replicate; however, coin collectors are now finding that Asia and elsewhere are creating fakes of all coins and denominations. So how do you tell if your coin is real?
Replicas: Replica coins are usually reproductions of famous coins or historical events. You can often find them at souvenir shops, and marketing firms may distribute them as tchotchkes. An easy way to tell if your coin is a replica is by examining the seam that runs around the coin where the two halves of the casting mold come together: they also generally have less detail than a real coin. Unfortunately, replicas are virtually worthless, so before you make the investment, make sure you examine the piece carefully.
Counterfeits: Unlike replicas, counterfeits are put out into circulation to "trick" the public. Counterfeits are usually made of a worthless base metal, and can be easily detected if you know what to look for. Under close examination, counterfeit coins can have bubbles or pimples in the casting that can be seen under a magnifying glass. The engravings also won't match those of genuine mint. As coin collecting has gain more popularity, so have counterfeits. Forged gold coins are most commonly gold dollar and three-dollar gold pieces, or coins dated between 1870-1933. You may also find 1799 ten-dollar gold pieces, as well as 1811 five dollar coins. For silver, the most common forged coins are the 1084 Lafayette dollars, some commemorative half dollars, and the 1795 half dimes.
To confirm your coin isn't a counterfeit, compare your coins with others of the same kind. Confirm it's the same size, color, luster, weight, and has the same design details.
Alterations: Alterations to coins are usually done to deceive collectors. The coin may be altered by the addition, removal or change to the design of the coin, or the coin's finish could be altered by polishing, sandblasting, acid-etching, toning or plating of a genuine piece. The most common alterations are by changing mintmarks and dates.
To confirm your coin hasn't been altered, it's best to compare it to like coins under a 10x-40x magnifying glass as well as have an expert like, Gold Buyers Near Me examine it for you.
Common Coin Gradings – What Do They Mean
When a coin is given a grade, it will have an abbreviation such as "MS" for A Mint State coin as well as a numerical grade between 1 and 70. Mint State ("MS"), Uncirculated ("Unc.") and Brilliant Uncirculated ("BU") represent coins that have no wear i.e. uncirculated, but they can still have imperfections.
Mint State numerical grades range from MS-60 to MS-70. An MS-60 rated coin can have a poor strike, poor luster and discoloration. This is the lowest grade in uncirculated coins and actually tends to be an unusual grade. Uncirculated coins tend to grade from an MS-62 to a MS-64 which show moderate deficiencies with an above-average eye appeal. Modern bullion coins and commemorative coins are often found in the MS-69 range. Few will be rated an MS-70, meaning a flawless coin.
If you see coins that are marked with a "PR", that stands for Proof which is not actually a grade. Proof coins will also be graded, but include the PR with the actual grading i.e. MS/PR – 69. Circulated coins also have grades ranging from Poor to About Uncirculated with a numeric grade from 1-58.
| Condition | Grade Range | Characteristics |
| --- | --- | --- |
| Poor | PO-1 | The coin is barely recognizable. The date is missing and the design has no raised edges. |
| Fair | FR-2 | Design outline and date may be visible enough to make out the type of coin, but the lettering and rim is worn andmay be completely gone. |
| Almost Good | AG-3 | You should be able to make out more of the letter and the design. Rims of the coin will still be generally worn. |
| Good | G – 4 & G – 6 | You can make out the general design of the coin, but the details will be weak. The rim of the coin will be moreprominent. |
| Very Good | VG – 8 & VG – 10 | Medium to heavy wear, but more details will be visible. Example – 3 or more letters of the word Liberty will be visibleon the Liberty coin. |
| Fine | F -12 & F -15 | Medium wear. More details will be visible. Example – All 7 letters of the word Liberty will be visible on the Liberty coin. |
| Very Fine | VF – 20, 25, 30, 35 | Medium to light wear. Details will be more visible. Example – All 7 letters of the word Liberty will be visible and strongon the Liberty coin. |