Sell Your Precious Metals
We Buy All Precious Metals
At GoldBuyersNearMe.com, we buy all types of precious metals, including gold and silver – platinum too! Unfortunately, at this time, we do not purchase gold-filled items. As gold and silver buyers, we have a rich knowledge of buying all precious metals. We also work tirelessly to make the process easy for our customers to sell gold and silver. Are you unsure whether your item is a precious metal? No problem. Our highly trained experts will do all the testing to give you the best price for your gold, silver, and platinum items.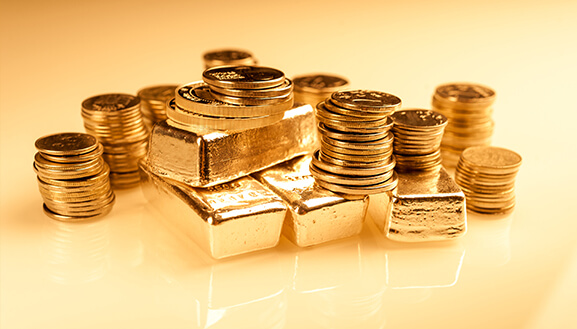 Fill out the form for your
FREE Appraisal Kit
Are my Items Gold, Silver, or Platinum?
Often you may own a precious metal and not be entirely sure of its make. To ascertain your precious metal's value, we recommend the use of several testing techniques. These include:

Hallmark
Hallmarks are assay or standard markings, distinguishing characteristics, and stamping on gold, silver, and platinum items. The primary purpose of this stamp is to identify the items' purity. In addition, some hallmarks can determine where the items originate, a maker's mark, and the testing office. The imprint may also include the year and the designer. You can find these hallmarks in a variety of places. Common locations are on the inside of a ring or a tag near the clasp of a necklace. If you are selling coins, the stamp is usually on the front face. Frequently, you will need a magnifying glass to see the hallmark.

Magnet Test
The magnet test is another critical appraisal method to ascertain the value of your precious metal. Most people tend to use a refrigerator magnet. However, it may not be strong enough. Often, we recommend a stronger magnet that you can find at your local hardware store. Here's how to test your gold, silver, and platinum: hold the magnet to your items – gold is not magnetic, so if the magnet attracts the jewelry, your item does not contain solid gold, silver, or platinum. However, if the clasp on a chain is magnetic but the chain is not, it may be the real deal. Regardless, our expert jewelers will also test the metal to be sure. It is because some people use non-magnetic metals in fake and costume jewelry.

Confirming the Purity
Purity is one of the main ingredients in determining your gold and silver value. Gold-filled items should have a karat number and include a "GF" or "GP" after the purity marking. To be 100% confident your item is gold-filled or solid gold, use only a qualified and trained gold and silver buyer to perform an acid test to determine its purity.
Do not despair if you cannot find a specific marking on your metal. Do not also worry if the test you are performing does not work. It could be that you are not a trained professional – we are! Remember, we have made selling gold and silver from home easy, and we will happily do all these tests for you at our secure facility – for free! Sell your precious metals, and lock in your gold and silver prices today! All you need to do is complete the form to request your free Appraisal Kit.
Sell Your Scrap Dental Gold Jewelry
Did you know that selling scrap gold is a great way to make some extra cash fast? Of course, many people immediately think of jewelry and gold coins when considering selling scrap gold, but scrap dental gold is another potential source of money.
Selling dental gold is easy with USGoldBuyers.com. We are reputable dental gold buyers and gold jewelry buyers specializing in the purchase of precious metals.
The process for selling dental gold is easy. First, send your scrap gold through our carrier, and our dental gold buyers will evaluate your gold to determine the value. Our dental gold prices are determined by the weight and karat of the gold.
The more scrap dental gold you have to sell, the higher the overall payment. Once we determine the value of your gold, we will contact you the same day with the amount of your payment for your approval.
Also, once you agree to sell dental gold to us, we immediately process your payment. The same applies to your scrap dental gold. You can expect payment within 24 hours of receipt of your package. Payments are sent on the same day, and you have several options for receiving the funds. We pay by check, PayPal, Western Union, Money Gram, or Bank Wire, depending on your preference.
Our high volume of business allows us to offer the highest possible dental gold prices, more than the local gold buyer in your area and other online gold buyers. We protect your shipment with insurance, package tracking capabilities, and security and surveillance within our facility.