Patek Philippe is a world-renowned watchmaker known for high-quality, stunning timepieces. Their signature look is sophisticated, sleek, and timeless (pun intended), and they're one of the most famous watch brands in the world, for a good reason.
Today, we'll take a brief look at the brand and its definition of owning a Patek Philippe watch. So, if you're on the market for one of their stunning wristwatches, you've come to the right place.
Read on for more information about Patek Philippe watches, their history, and what you should keep in mind when buying or selling a watch of this caliber.
Brief History
A former Polish cavalryman, Antoine Norbert de Patek set up a watch factory in 1839 with his close companion, Francois Czapek, who worked as a watchmaker. The company they established together would not last very long, and after it was liquidated, Patek moved on to bigger and better things – and watchmakers.
During a visit to Paris in 1844, Patek discovered another watchmaker by the name of Jean Adrien Philippe, who invented the pocket watch, which owners could wind without the need of a winding key. After that, Patek invited Philippe to accompany him to Geneva, and in the next year, the Patek & Cie company was founded.
Philippe initially worked as the company's technical director but in 1851, he became a partner. Jean voiced his considerable frustration at the fact that current owners did not recognize his surname in the company. As a result, the Patek & Cie became Patek, Philippe & Cie. This would be the company's name for more than a century until the organization changed it in 2009 to become something more concise – Patek Philippe.
Since 1932, dozens of Patek Philippe watches have been in the hands and on the wrists of the Stern Family. These days, Thierry Stern, the company's president, leads the prestigious business, which now has over 2,000 people employed around the globe. The company makes 53,000 watches a year.
Buying and Selling Tips
There are a couple of things that you should know when it comes to buying and selling a Patek Philippe watch. Here are the most critical points you need to keep in mind when you decide to buy or sell a Patek Philippe watch, or any other watch you may have on your list.
Know your watch
As with any other luxury watch, it's essential to know the kind of Patek watch you are looking to buy or sell. While the company does not create as many watches every year as other titan brands like Cartier, Rolex, or Omega, they are still a highly exclusive watchmaker with a history that dates back centuries. This makes their assortment of discontinued, vintage, and new watches quite varied.
As such, be sure to pay attention to the serial numbers and model names, as these will tell you a lot about the watch that you are trying to buy or sell. Most collectors will also simply refer to specific Patek watches by their reference numbers rather than their names, which can make it challenging to keep up.
It also helps to make a note of the collection that your watch is a part of, as this will give you an idea of how new or old the watch is – a metric that is directly tied to its value. Some more numbers that you will need to know are the case and movement numbers. Similar to the reference numbers, these can be found on the interior of the watch's solid case back or the inside of the metal ring of the sapphire case back.
Gather all Auxiliaries
Once you've determined some basic information about your Patek watch, you should gather all of the packaging, boxes, and papers that belong to that specific watch to complete the set. If you don't have the watch's Certificate of Origin, you can order one from Patek Philippe's archives.
Patek keeps detailed records of all of the watches they have manufactured since 1839, so if you send them your watch's case and movement number and detailed images of the watch itself, they'll send you an official 'Extract from our Archives' paper. This paper includes details pertaining to the watch type, caliber type, dial type, and more.
Get an Idea of Approximate Market Value
Once you've gathered absolutely all of the information related to your specific Patek watch, you'll want to do some research to determine its current estimated market value. A quick Google search will give you a rough estimate of the watch's value. Still, this value will change depending on your model's condition, availability of papers and boxes, and overall provenance.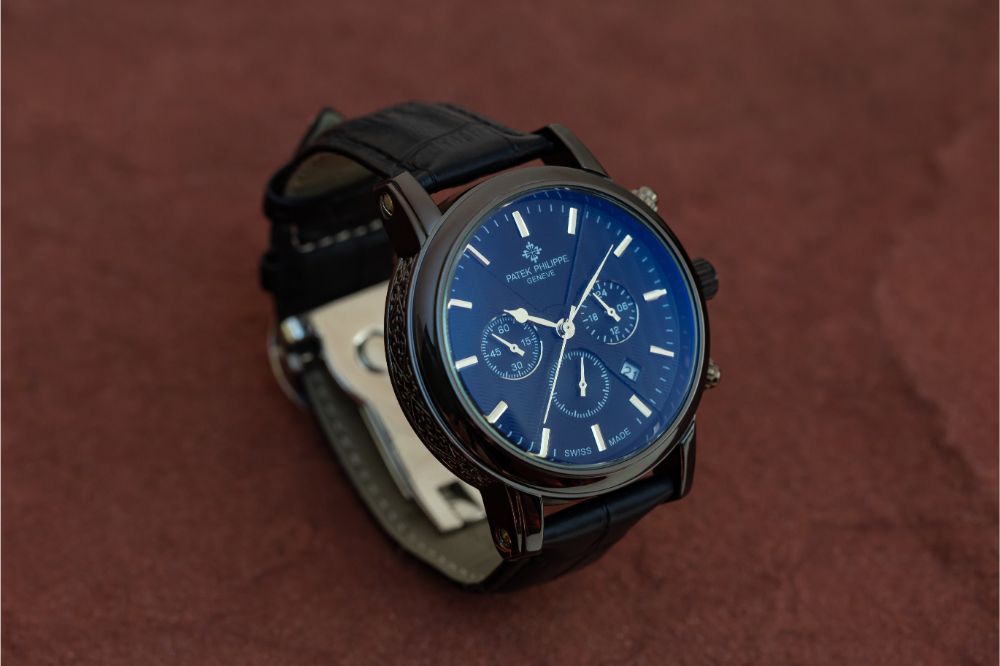 Gold Buyers Near Me Largest Selection of Watches
At Gold Buyers Near Me, we offer one of the largest selections of new and pre-owned luxury watches in the country, stocking brands such as Rolex, Patek Philippe, Cartier, and many more. We're here to help you turn your new, vintage luxury watches into cash with our unique system that allows you to get cash or in-store credit that you can apply to our other fantastic items.
We don't just deal in luxury watches but all kinds of precious metals as well. We use a unique system that makes it easy for you to turn your scrap or unwanted jewelry into cold hard cash, and we're the only business to offer a 1.5x cashback rate in in-store credit to customers who purchase through our store.
All you need to do is send us your items, and after a quick visual inspection, we'll send you an offer. You can either accept cash payment or keep the value as in-store credit to spend on any of the other items we have in stock, either now or in the future.
New and Used Patek Philippe Watches
So, if you're on the market for a luxury watch that looks brand-new (whether it's new or not), then be sure to browse our site. We've got a wide selection of Patek Philippe watches from all decades, from their latest to some of their most vintage models.